Barnabas Legacy Children's Dream Foundation.
The BLCD Foundation is a legally registered Ugandan Not for Profit Organisation.
BLCDF is a Christian Child Care Ministry that looks after 250+ vulnerable, orphaned and needy children in Katunda Village, Jinja, Kampala.
The Foundation was founded in 2013 by Pastor Steven Wamala and a team from Katunda Pentocostal AOG, Buikwe District, located in Katunda Village.
In February 2023 the Agape Star Christian School was opened, a private Christian school located in Namatovu village, Buikwe District.
The school was co-founded by BLCDF and Mr and Mrs Naroba (Australia) to provide education for Ugandan children living in the poor rural villages of the Buikwe District (who pay a small nominal school/uniform fee), and includes the children under the care of the Foundation (who attend the school for free thanks to the support of BLCDF donors). 
Our Vision
EVERY CHILD has the right to be respected, the right to DREAM, the right to be loved and cared for, the right to have their gifts recognised and valued, the right to achieve their GOD-GIVEN POTENTIAL  and the need for unconditional love.
Our Mission
Children are not more distraction from important work. They are the most important work. (C S Lewis).
'Train a child in the way they should go; even when they are old, they will not depart from it'. Proverbs 22:6

The school land was purchased in 2021. In 2022 there were two building phases. Agape Star Christian School (Kindergarten & Primary Campus) opened on 6 February 2023. 
It was amazing in 2021 to be able to raise $5,000AU to purchase the land for the Agape Star Community School. In 2022 $50,000AU was raised to build the Primary School campus which opened for Term 1, February 2023. Thank you to our generous donors.
We would love you to join in partnering with us to continue to build the School – the Secondary School campus and boarding facilities plus school operational costs. Every small amount is a blessing to the 250+ children we are serving and supporting through the Barnabas Legacy Children's Dream Foundation.
Our school scripture is Psalm 143:8:
'Let the morning bring me word of your unfailing love, for I have put my trust in you. Show me the way I should go, for to you, I entrust my life'.
2023 Candidates yet to receive an Agape Star Christian School Scholarship
Our 2023 Education Scholarship Program, helps fund a quality education for some of our precious children. 
The Scholarship is $350AU per year ($150AU Term 1, Term 2, $100AU and Term 3, $100AU).  Please get in touch at barnabaslegacy@gmail.com if you would like to fund a scholarship.
The students below are candidates waiting for a Scholarship in 2023.



What We Do
The purpose of BLCDF is to share Christ with the children, and while in the Foundation's care, to mould them into biblically and academically educated members of our future society and to champion them in the dream God has put in their heart. 
The ONE who created the STARS, who calls them all by NAME (Isaiah 40:26); so too the children of BLCDF, the Lord knows each by name. Every child is so precious in the sight of the Lord. Every child created by the Father with a DREAM in their heart. Every child a 'STAR' in the eyes of the Lord.
Our Story
The seeds for BLCDF were planted in 2013 by Pastor Wamala Steven, when God burdened his heart with the vulnerable, orphaned and neglected children living in his village. Steven took this burden and vision to his Church community (Katunda Pentocostal AOG, Buikwe District) and asked for their support and prayer to turn the vision into reality. Subsequently, he founded God's Vine International, which Steven and his team faithfully ran for 7 years. 
In early 2020, God's Vine International was restructured into a legally registered Ugandan Not for Profit Organisation and renamed Barnabas Legacy Children's Dream Foundation.  Steven and the Foundation's team partnered with Women ECHO Him Collective's Founder Maree Cutler-Naroba (based in Australia) to strengthen and build the organisation further.  

Father of the fatherless and protector of widows is God in His holy habitation. Psalm 68:5.
There is none like our God, Not one child, not one widow does our God forget. Nestled in the heart of the Father are the children and widows that others would ignore, but God does not.
We serve a mighty, awesome and holy God. It is a privilege for the Barnabas Legacy Children's Dream Foundation and the Katunda PAOG Deborah Women in Business Collective to sow into the lives of the neglected and abused children, orphans and widows of Katunda Village, Jinja, Kampala, Uganda
10% of the Donations to the Foundation are sown in LOVE to provide extra care and support for the older vulnerable widows of Katunda Village, who are not able to move around easily and have become dependent on others for their physical care. Care Packages are given to the widows containing items such as sugar, tea, soap and blankets.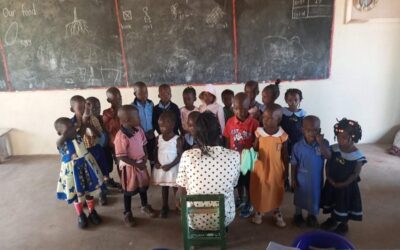 When we first started out on the Vision of Barnabas Legacy Children's Dream Foundation and the idea of the establishment of Agape Star Christian School, it was a dream I had towards the welfare of underprivileged children with a purpose to share the love of Jesus with...
Sign up for email updates!

Get in Touch. Get Involved.
Barnabas Legacy Children's Dream Foundation would welcome your involvement. Please do get in touch and find out practical and financial ways in which you can support this Christian Child Care Ministry reaching over 250+ vulnerable, orphaned and needy children in Katunda Village, Jinja, Kampala, Uganda.
PO Box 5204, Jinja, 256 Kampala, Uganda
PO Box 144, Kununurra, Western Australia 6743, Australia
Uganda: +256 777 623896 Australia: +61 4 8807 7034